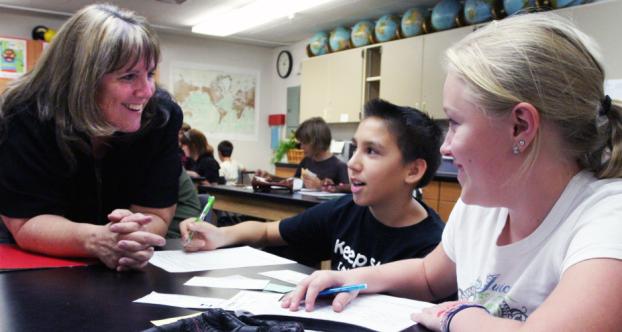 Caption: Presidential Award recipient Colette Masucci Bos with her seventh-grade students Alex Thompson and Devin Poulsen. Photo by Michael Barcia, Mesa Public Schools
Excellent Educator
Alumna Receives Presidential Award for Teaching Science
Alumna Colette Masucci Bos was among a small cadre of women studying geological science back in the early 1980s. 
She credits her Cal State Fullerton professors for encouraging her to pursue the field and for prodding her to one day consider a career teaching science. 
One professor in particular, the late John D. Cooper, emeritus professor of geological sciences, had suggested that Bos consider becoming a teacher — after she pursued her goal of working in the mining field. 
"I had several conversations with 'Coop' about teaching. The advice he gave me made sense: I was about to get a degree in a field that at that time was not commonly chosen by women. He suggested that I work as a geologist for a while where I would get the opportunity to work in the field or in research. 
"Then he said I should go into teaching so I could bring some interesting stories to the classroom." 
Over the last 22 years as a high school and middle school science teacher in Arizona, Bos has shared stories with her students about her work on mining and engineering projects. 
"Coop was right. My students have loved my stories about working as a geologist. I hook them into the content before we ever crack a book." 
For Bos' dedication and contributions to teaching, she has received the nation's highest teaching honor: the Presidential Award for Excellence in Mathematics and Science Teaching. 
Bos is among 103 teachers nationwide to receive the honor, which is awarded annually to the nation's top K-12 mathematics and science teachers. Recipients also receive a $10,000 National Science Foundation grant. 
She travels to Washington, D.C., for an awards ceremony and other educational and celebratory events the week of Dec. 13. 
"We often think of excellence in science education as providing rigorous and intellectually stimulating instruction to students who will be researchers and scientists of the 21st century. I have been privileged to guide students of all ability levels in science inquiry and exploration," Bos said. "This award acknowledges the importance of providing excellent science instruction to all students, in classrooms with their peers, and with teachers who expect excellence from them." 
The math and science focus reflects Cal State Fullerton's heightened emphasis on increasing student interest in the STEM fields — a university initiative for 2010-11.
Top Teacher
After graduating in 1981 with a bachelor of science in earth science, Bos worked as a research geologist at Chevron Research in La Habra. Three years later, the Sylmar native moved to Arizona and landed a job as a field geologist. 
She began teaching in 1989 after earning a master's degree in education-curriculum and instruction and a secondary science credential, and has taught high school earth science, astronomy and Arizona geology classes. In 2001, she became a seventh-grade science teacher and instructional specialist at Smith Junior High in Mesa. 
Bos and a special education teacher also piloted a program to include students with moderate learning disabilities in general education classrooms. 
The program's success rate led to the incorporation of the model in all three grade levels of science and later, into all core courses at Smith Junior High, Bos said. 
In 2009, she was named school improvement specialist — serving as a resource for teachers to benefit all of Smith students, she explained. In this role, Bos helps teachers analyze test score data to target specific objectives or skills, and gives feedback on their classroom instructional strategies. 
For Bos, becoming a science teacher and an educational leader has been a rewarding career. 
"There is nothing I enjoy more than watching a student's face when he or she sees something that fascinates them for the first time," she said. "Imagine a 13-year-old gripping a fluorescent bulb in one hand and Tesla coil in the other. The teacher flips a switch, electricity flows through the student and the fluorescent bulb lights. The look on that student's face, times 30 other faces in the room, with the same expression? It doesn't get any better than that. They are officially hooked on science."
Nov. 30, 2010